HOME
>
Education / Student life
>
Features of Graduate School
Features of Graduate School
Producing numerous leading researchers
who contribute to the development in pharmaceutical sciences
The Graduate School of Pharmaceutical Sciences was established in April 1953. We have regarded "pharmaceutical sciences" as a comprehensive academic field aiming to the progress of the health sciences and have strived to promote research and education. A large number of leading researchers, who are active in the front lines of broad professional fields, have been produced into the areas of pharmaceutical production, health care, and the environment.
We are now faced with a rapid change of the social environment, and pharmaceutical researchers are being required to play important roles in the health sciences area. That is, there is no doubt that the demand for researchers with a background in the pharmaceutical field will be increased in the future. We hope that you will enter the Graduate School of Pharmaceutical Sciences in Osaka University in order to become a researcher contributing to the advancement of comprehensive health science.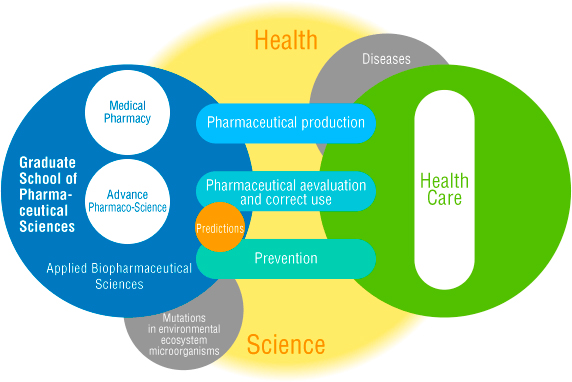 Organization of Graduate School
Besides the Department of Pharmacy offers a 6-year education program and it was started in 2006, the Department of Pharmaceutical Sciences offers a 4-year education program. In 2010, a new curriculum has been constructed for graduated students who eager to continue to study in the Master's program (for 2 years), and the entrance examination was already conducted in August 2009.
Doctoral courses of the Medical Pharmacy and the Advanced Pharmaco-science (provisional names) will be introduced in 2012 for the Departments of Pharmacy and Pharmaceutical Sciences, respectively.